Coins & Paper Money > Coins > Ancient > Roman > Imperial (27 BC-476 AD)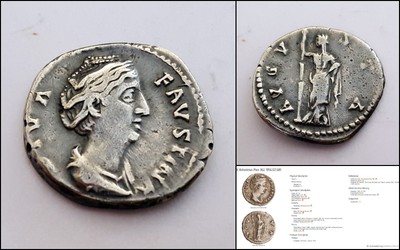 Time left:

17 days 11 hours
Item Number:

252876088200
(Last Updated: 10 Hours 47 Minutes ago)
Payments:
Credit Cards processed by PayPal
Shipping:
Free Expedited Shipping from outside US
Location:
Tallinn, Harjumaa
Similar items you may be interested in
Description
NB! Look my other auctions! New ancient coins auctions every week! ____________________________________________________________ Ancient Roman Empire coin.

Year: 141 ADDenomination: denariusRegion: Roman Empire Mint: RomeAuthority: Antoninus PiusObverse portrait: Faustina the Elder (wife of Antoninus Pius)Diety: CeresMaterial: silverSize: 22-24 mmWeight: 3,01 g.Condition: about XF by Sheldon Grading Scale.

You can check coin grade using Sheldon Grading Scale on my last picture.Reference: RIC III Antoninus Pius 362Authenticity: all coins are professionally checked to be original.

Coins material, size, weight and details are properly checked.Returns: I accept all returns within 7 days after buyer received his purchase.Shipping: all shipments are traceable.Combined shipping: I do combine shipping.

First item sipping cost 8.- usd and every next item is 1.- usd._______________________________________________________________________________________ Antoninus Pius 15th Emperor of the Roman Empire Antoninus Pius (Latin: Titus Fulvus Aelius Hadrianus Antoninus Augustus Pius 19 September 86 CE – 7 March 161 CE), also known as Antoninus, was Roman Emperor from 138 to 161. He was one of the Five Good Emperors in the Nerva–Antonine dynasty and the Aurelii.

He acquired the name Pius after his accession to the throne, either because he compelled the Senate to deify his adoptive father Hadrian, or because he had saved senators sentenced to death by Hadrian in his later years.

He died of illness in 161 and was succeeded by his adopted sons Marcus Aurelius and Lucius Verus as co-emperors.

Marriage and children Some time between 110 and 115, Antoninus married Annia Galeria Faustina the Elder.

They are believed to have enjoyed a happy marriage.

Faustina was the daughter of consul Marcus Annius Verus and Rupilia Faustina (a half-sister to Roman Empress Vibia Sabina). Faustina was a beautiful woman, and despite (basically unproven) rumours about her character, it is clear that Antoninus cared for her deeply.

Faustina bore Antoninus four children, two sons and two daughters.

They were: Marcus Aurelius Fulvus Antoninus (died before 138) his sepulchral inscription has been found at the Mausoleum of Hadrian in Rome.

Marcus Galerius Aurelius Antoninus (died before 138) his sepulchral inscription has been found at the Mausoleum of Hadrian in Rome.

His name appears on a Greek Imperial coin.

Aurelia Fadilla (died in 135) she married Lucius Lamia Silvanus, consul 145. She appeared to have no children with her husband and her sepulchral inscription has been found in Italy.

Annia Galeria Faustina Minor or Faustina the Younger (between 125–130–175), a future Roman Empress, married her maternal cousin, future Roman Emperor Marcus Aurelius in 146. When Faustina died in 141, Antoninus was greatly distressed.

In honor of her memory, he asked the Senate to deify her as a goddess, and authorised the construction of a temple to be built in the Roman Forum in her name, with priestesses serving in her temple.

He had various coins with her portrait struck in her honor.

These coins were scripted 'DIVA FAUSTINA' and were elaborately decorated.

He further created a charity which he founded and called it Puellae Faustinianae or Girls of Faustina, which assisted destitute girls of good family.

Finally, Antoninus created a new alimenta (see Grain supply to the city of Rome) A non-military reign There are no records of any military related acts in his time in which he participated.

One modern scholar has written "It is almost certain not only that at no time in his life did he ever see, let alone command, a Roman army, but that, throughout the twenty-three years of his reign, he never went within five hundred miles of a legion". His reign was the most peaceful in the entire history of the Principate notwithstanding the fact that there were several military disturbances throughout the Empire in his time.

Such disturbances happened in Mauretania - where a senator was named as governor of Mauretania Tingitana in place of the usual equestrian procurator and cavalry reinforcements from Panonnia were brought in, towns such as Sala and Tipasa being fortified.

Similar disturbances took place in Iudaea, and amongst the Brigantes in Britannia, none of them being considered serious.

It was however in Britain that Antoninus decided to follow a new, more aggressive path, with the appointment of a new governor in 139, Quintus Lollius Urbicus a native of Numidia and previously governor of Germania Inferior.

Under instructions from the emperor, Lollius undertook an invasion of southern Scotland, winning some significant victories, and constructing the Antonine Wall from the Firth of Forth to the Firth of Clyde.

The wall, however, was soon gradually decommissioned during the mid-150s and eventually abandoned late during the reign (early 160s), for reasons that are still not quite clear.

Antonines Wall is mentioned in just one literary source, Antoninus biography in the Historia Augusta.

Pausanias makes a brief and confused mention of a war in Britain.

In one inscription honoring Antoninus, erected by Legio II Augusta, which participated in the building of the Wall, a relief showing four naked prisoners, one of them beheaded, seems to stand for some actual warfare.

Picture: The Roman Empire during the reign of Antoninus Pius.

Economy and Administration Antoninus was regarded as a skilled administrator and as a builder.

In spite of an extensive building directive - the free access of the people of Rome to drinking water was expanded with the construction of aqueducts, not only in Rome but throughout the Empire, as well as bridges and roads, the Emperor still managed to leave behind a sizable public treasure of around two and a half million sesterces (Rome would not witness another Emperor leaving his successor with a surplus for a long time.

But this treasure was depleted almost immediately after Antoninuss reign due to the plagues the troops brought back after the Parthian victory Picture: An aureus of Antoninus Pius, 145 AD Legal reforms Antoninus passed measures to facilitate the enfranchisement of slaves.

Mostly, he favoured the principle of favor libertatis, giving the putative freedman the benefit of the doubt when the claim to freedom was not clearcut.

Also, he punished the killing of a slave by his/her master without previous trial and determined that slaves could be forcibly sold to another master by a proconsul in cases of consistent mistreatment.

Antoninus upheld the enforcement of contracts for selling of female slaves forbidding their further employment in prostitution.

In criminal law, Antoninus introduced the important principle that accused persons are not to be treated as guilty before trial- as in the case of the irenarchs (see above). He also asserted the principle that the trial was to be held, and the punishment inflicted, in the place where the crime had been committed.

He mitigated the use of torture in examining slaves by certain limitations.

Thus he prohibited the application of torture to children under fourteen years, though this rule had exceptions.

However, it must be stressed that Antoninus extended, by means of a rescript, the use of torture as a means of obtaining evidence to pecuniary cases, when it had been applied up until then only in criminal cases.

Also, already at the time torture of free men of low status (humiliores) had become legal, as proved by the fact that Antoninus exempted town councillors expressly from it, and also free men of high rank (honestiores) in general.

One highlight during his reign occurred in 148, with the nine-hundredth anniversary of the foundation of Rome being celebrated by the hosting of magnificent games in Rome.

It lasted a number of days, and a host of exotic animals were killed, including elephants, giraffes, tigers, rhinoceroses, crocodiles and hippopotami.

While this increased Antoninus's popularity, the frugal emperor had to debase the Roman currency.

He decreased the silver purity of the denarius from 89% to 83.5% — the actual silver weight dropping from 2.88 grams to 2.68 grams.

Picture: Statue of Antonius Pius in military garb and muscle cuirass, from the Museo Chiaramonti (Vatican Museums). Death In 156, Antoninus Pius turned 70. He found it difficult to keep himself upright without stays.

He started nibbling on dry bread to give him the strength to stay awake through his morning receptions.

Marcus Aurelius had already been created consul with Antoninus in 140, receiving the title of Caesar - i.e., heir apparent.

As Antoninus aged, Marcus would take on more administrative duties, more still after the death -in 156 or 157 - of one of Antoninus most trusted advisers, Gavius Maximus, who had been praetorian prefect (an office that was as much secretarial as military) for twenty years.

Gavius Maximus, who had been one of the most important members of Antoninus "team" of long standing advisers, had been awarded with the consular insignia and to the honors due to a senator.

He had left behind himself the reputation of being a most strict disciplinarian (vir severissimus, according to Historia Augusta) as well as some lasting grudges among fellow equestrian procurators- one of them, by predeceasing Gavius and vilifying him in his will, created a serious embarrassment to one of the heirs, the orator Fronto.

Gavius Maximus death offered the opportunity to a welcome change in the ruling team, and it has been speculated that it was the legal adviser Volusius Maecianus - who, after a brief spell as Praefect of Egypt, took the office of Praefectus annonae in Rome - who assumed the role of grey eminence precisely in order to prepare the incoming - and altogether new - joint succession.

In 160, Marcus and Lucius were designated joint consuls for the following year.

Perhaps Antoninus was already ill in any case, he died before the year was out.

Two days before his death, the biographer reports, Antoninus was at his ancestral estate at Lorium, in Etruria, about twelve miles (19 km) from Rome.

He ate Alpine cheese at dinner quite greedily.

In the night he vomited he had a fever the next day.

The day after that, 7 March 161, he summoned the imperial council, and passed the state and his daughter to Marcus.

The emperor gave the keynote to his life in the last word that he uttered when the tribune of the night-watch came to ask the password—"aequanimitas" (equanimity). He then turned over, as if going to sleep, and died.

His death closed out the longest reign since Augustus (surpassing Tiberius by a couple of months). Picture: The temple of Antoninus and Faustina in the Roman forum (now the church of San Lorenzo in Miranda). The emperor and his Augusta were deified after their death by Marcus Aurelius.

Source: Wikipedia, the free encyclopedia.