Bidding has ended on this item.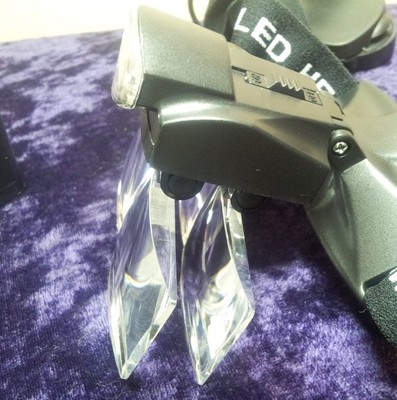 Similar items you may be interested in
Coins & Paper Money > Stocks & Bonds, Scripophily > Transportation > Railroads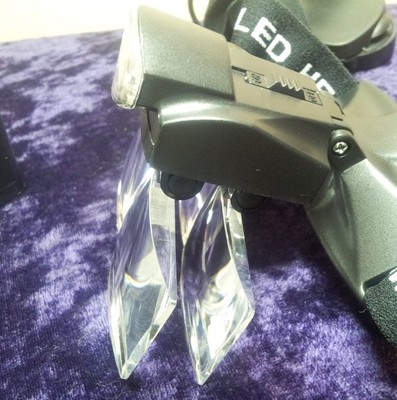 Similar items you may be interested in
Description
You are bidding on a pair of Fine Document Pentaspecs, with Adjustable Focal Points NEW- from 420specs, U.S.A. These Flexible View Pentaspecs adjust in both focal distance and magnification strength.

The 2 Extra bright L.E.D.lights are mounted on a vertical swivel.

Pentaspecs can be used with two lens, or just one, many different magnifications are produced by changing the position and combined strength of each of the five lenses.

They also flip up and out of the way whennot in use.

Including 1.0X, 1.5X, 2.0X, 2.5X, 3.0X, 3.5X, 4.0X 4.5X, 5.0X, 5.5X, 6.0X approx.350mm to 35mm focal points accordingly...These are Awesome.

These are stereoscopic.

Great for close quick evaluation . Work at night:) Very flexible and stereoscopic.

Perfect tools-and very popular with all my friends . They are sturdy and made of lightweight composites.

These are a great addition to any tool kit.

I will personally inspect, process and assemble each order before sending it to your home, from mine.

Sometimes "life" just interferes and causes delays folks.

Rest assured I am going to have each box scanned at the post office personally.

This level of care takes time.

I do not drop ship.

Batteries are included.

Thanks again for looking and your bids.:)C Thank you.

Thanks for supporting Veterans as well.IF YOU HAVE ANY QUESTIONS..FEEL FREE TO ASK.

I RESERVE THE RIGHT TO REFUSE BIDS FROM UNVERIFIED ADDRESSES AND/OR AT ANY TIME FOR ANY REASON Lenses are not included in any warranty.

INTERNATIONAL BUYERS ARE RESPONSIBLE FOR all CUSTOMS/ HASSLES ,RISKS OR COSTS.

IF FREE IS OFFERED, IT IS TO THE LOWER 48 ONLY.ALTHOUGH I PRINT YOUR LABEL WITHIN 24 HRS,IT MAY STILL TAKE 4-5 extraDAYS TO TRACK OR SHIP NOT INCLUDING WEEKENDS HOLIDAYS,OR INTERNATIONAL MAIL.

Shipping times are over-estimated.

Bid soberish and read the description please.

Have a Blessed day! 🙂 All proceeds from sales go 100% to the Atlanta Veterans Empowerment Civic Society as seen on Facebook (Visit us and share- please if you are an activist for Veterans.

Learn more:) in the "about me" section) every share helps.

We are editing/writing a book now, and as always -free to Veterans organizations :):) We are a very small grass roots community that offers Veterans free daily ACTIVE coaching teaching, sharing, socializing and caring for one another.

Please visit 420specs ) for more info. 420specs purpose is to support AVECS.

If you are a Veteran in Atlanta, contact me for for schedules and meetings at 420specs or just say hello.

I also visit folks in their homes when needed,...and when possible according to funding/transportation/donations.

Thank you.